Shamanic Resources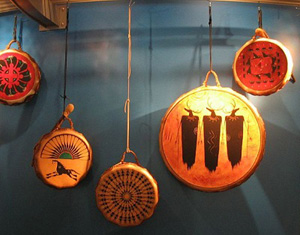 About Holistic Healing--Learn About Holistic Therapies.
Amazon World Drums & Percussion--Shop Amazon's Folk & World Percussion.
Body, Mind, Spirit Directory--Conscious Living , Holistic Health , Spirituality and Green Resources.
Calling Crane in the Shade--A website dedicated to reviews of books on the Yijing or I Ching.
Center for Shamanic Healing--Circle of Shamanic Healers, Teachers and Practitioners.
Chrystine Drums--Chrystine is a drummer, poet, workshop leader, teacher, performer and recording artist.
Circle of Tengerism--An organization dedicated to the preservation of Siberian and Mongolian shamanism.
Drum Journey--This excellent site is dedicated to drumming as a vehicle for healing and community spirit.
Drumming an End to Poverty--Drumming to raise awareness about microfinance as a means to end poverty.
Drums.org--A premier Internet gateway to the hand drum community.
Drum Spirit--Spiritual drumming & chanting circles in England with teacher and recording artist, Jana Runnalls.
Erowid--Member-supported organization providing reliable information about entheogens, herbs and spirituality.
Global Drum Circles--A bay area drum circle group.
Healers Earth--A site dedicated to facilitating the health and wellness of the human being.
Jade Wah'oo--Jade's site offers events, articles, shamanic training, services, and links.
Jean Anthony--Jean Anthony is a shamanic practitioner in the Seattle, WA area.
Jim Greiner's Hands-On! Drumming--Drumming programs and events for groups and communities.
Munay-Ki Awakening--Receive and learn the Nine Great Rites of the Munay-Ki.
Nicholas Noble Wolf--A traditionally initiated shaman dedicated to the welfare of the Earth and all her peoples.
Peyman and his Tonbak--Peyman Nasehpour, Persian Percussionist.
Primal Connection Foundation--Therapeutic and Educational Drumming in Central Florida.
Raion Taiko--Journey into the culture and discipline of Taiko/Japanese drumming.
Rhythmweb--Surf Rhythmweb for the best on the web regarding the world of rhythm and percussion based music.
San Diego Drum Community--Drum groups, drum circles and event information for the San Diego area.
Seventh Fire--Provides information to help wake people up on all levels so they can reclaim their world.
Shake & Rattle--Custom hand-crafted rattles by Thomas Hood.
Shaman Drums--Hand made shaman drums, rattles, feather fans, and power jewelry.
Shaman Portal--The resource for all things shamanic.
Shamanic Circles--A nonprofit organization dedicated to fostering global shamanic community.
Shamanic Connection--Reconnect with Spirit through Shamanic practices.
Song of the Spheres--An exploration of the arts, expression, human nature, and symphony of creativity.
Spirits Songs--Shamanic practitioner and teacher Kent Dorsey.
Tachini Drums--Custom builder of authentic handcrafted Native American drums and drum related products.
Tuvan Folk Music--Altai Kai - shamanic throat singing and traditional folk music.
Tuvan Throat Singing--Huun-Huur-Tu Tu - virtuosos of singing two to three notes simultaneously.
Urban Shamanism--David Lang's fun and informative website explores the power of modern shamanic tools.
Veins of Silver - A site devoted to shamanism and healing.
Preview our Digital Books and Music
© 2001 - 2013 Talking Drum Publications