Consult the I Ching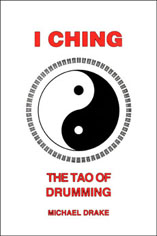 Divination is the art of seeing and interpreting signs in everything around us. The goal of shamanic divination is to encourage well-being by helping a person live in harmony with the universe around them. One of the best known systems of divination is the I Ching, or Book of Changes. For some 3,000 years, people have turned to the I Ching to help them uncover the meaning of their experience and to bring their actions into harmony with their underlying purpose. You can call on it to help with any question you have.
For a reading, click on the "Cast a Hexagram" button. A small window will appear. Click the "Create Hexagram(s)" button to generate the hexagrams. Red indicates a changing line. Clicking on the "Hexagram 1" & "Hexagram 2" buttons will replace this page with the corresponding hexagram's text.
The Tao of Drumming
I'm grateful to Dan Enright for allowing me to use his I Ching javascript based on the yarrow stalk method. The result is the immediacy of the coin tossing method with the reliability of the yarrow stalk method. The program is based on my book I Ching: The Tao of Drumming -- the only shamanic interpretation of the I Ching from a rhythmic perspective. A synthesis of shamanic drum ways and Taoist philosophy, The Tao of Drumming provides for the first time the rhythmic structure of the 64 hexagrams or potential human situations. Drum patterns derived from the hexagram images render the essence of each archetype of experience into sound, giving it physical, mental, and spiritual impulse. Through the natural law of resonance, the drummer then embodies the qualities and attributes necessary to effect change or harmonize with change in any given situation.
More than an oracle, the I Ching is a keyboard or periodic table of rhythm archetypes. The key to understanding the I Ching and its place in your life is to realize that the universe is made of vibrational energy; that it is a single, flowing, rhythmic being. According to quantum physics, everything in the universe, from the smallest subatomic particle to the largest star, has an inherent vibrational pattern. The entire universe is created through vibration and can be influenced through the vibrations of drumming. The Tao of Drumming is a shamanic tool for altering or harmonizing the vibrational state of the drummer or a particular situation in the community. With clear and practical explanations of each of the 64 hexagrams along with useful exercises and illustrations, this innovative handbook demonstrates how drumming these simple rhythm archetypes brings the essential self into accord with the pattern or way of cyclical change, and that way is known as Tao. Find an I Ching Rhythm for your need of the moment.
Reviews:

"A fascinating multicultural synergism of thought regarding the rhythmic pulses of the universe and their relationship to divination and drumming."
-- Jonathan Goldman, author of Healing Sounds .
"Michael has done all of us a huge kindness by compiling this exhaustive work into one volume in clear concise language."
--Dru Kristel, author of Breath Was the First Drummer .
"Ever since I first saw the book I Ching, The Tao of Drumming by Michael Drake, I have been fascinated by it. It's one more way to experience the connection of all things. Drake instructs the drummer to create rhythmic patterns. These can be assembled to drum the four elements, the four directions, and the I Ching hexagrams. "It is a synthesis, a blending of rhythmic knowledge from Taoism, shamanism, and the philosophical wisdom of the I Ching." The inspiration that comes from these philosophies can now be felt through the vibration of drumming."
--Arlene Arnold, The New Times
"I like what Michael is doing and saying in I Ching: The Tao of Drumming. The drum is the presence of ha-moo-low-nay, which is how the Infinite is seeing the unfolding of the deeper levels of the vast self."
--Joseph Beautiful Painted Arrow Rael , Ute-Tewa artist and author of Being and Vibration .
5.0 out of 5 Stars. A true "way" of Drumming. Michael Drake truly captures "the way" of the drum and also I believe our emotional and spiritual connection to it. From the ancient ceremonial drums of early man until modern times, this "way" of the drum has not changed within us - and Michael Drake captures this in all of his books. This book actually has rhythmic exercises and patterns the reader can learn and use as a guide to finding their own "way." As a lifelong drummer and student of related speed bag rhythms, I found it very interesting and enlightening.
--Alan Kahn Amazon Reviews
"Amazing work, given the role of music in the lives of many."
--Anthony Judge, author of Periodic Pattern of Human Life
"It's a fascinating idea, especially for I Ching aficionados, and another good excuse to put your hands on those healing skins."
-- NAPRA ReView
"I recently bought your book and CD for the Tao of Drumming. I am a martial arts teacher of a Daoist Kung Fu system. My arts are based on Chi Cultivation which I found that your Tao of Drumming fits in well with as the vibrations of the drum will enter certain organs for its healing benefits plus much more. So I needed to write to you to thank you on a huge effort and great job on the book and drumming."
--Garry Hearfield, Shaolin Yau Kung Mun Kung Fu Academy, Sydney, Australia
5.0 out of 5 Stars. "I found it informative and enlightening. I have already told a few friends about it. We are learning drumming and it helps to have background and tips. Thanks."
--Keith Schantz Amazon Reviews
Read a FREE Kindle Instant Preview of I Ching: The Tao of Drumming (Kindle format).
Download a FREE 20% Sample of I Ching: The Tao of Drumming (EPUB format for Adobe Digital Editions, Stanza, iPad, Sony Reader, Blackberry, iPhone, and other eBook Readers).
Download Now From iTunes--Ebook, Universal EPUB format for Adobe Digital Editions, Stanza, iPad, Sony Reader, Blackberry, iPhone, and other eBook Readers, 2003 Revised Edition, $5.99.
Download Now From Amazon--Ebook, 2003 Revised Kindle Edition, $5.99. If you buy a new print edition of this book (or purchased one in the past), you can buy the Kindle edition for only $1.99.
Buy Now From Amazon--Trade Paperback, 2003 Revised Edition,152 pp, $12.99.
I Ching: The Tao of Drumming Instructional Recording
by Michael Drake.

On this companion recording to the book, Michael Drake instructs the listener in playing the rhythmic patterns described in the text. He provides explanations and examples of the Binary, Elemental, and Trigram rhythms, as well as a 30 minute example of the Timewave of Change. The rhythm archetypes provide a means of exploring and developing the inner self. We can journey within to access information and energies that can help awaken us and restore us to wholeness. Entraining to these primordial rhythms, we experience them directly and discover our rhythmic interconnections. Through the integration of these rhythmic patterns, we reconnect to our core, enhancing our sense of empowerment and creative expression. To learn more, read Drumming the I Ching by Hilary Barrett.

Buy Now From Amazon--I Ching Instructional, Audio CD, $12.99

Javascript I Ching Hexagram Generator v.1.2 Copyright © October, 1999 dan enright/2thirdx-perts

I Ching: The Tao of Drumming Copyright © 2003 by Michael Drake

Preview our Digital Books and Music

© 2001 - 2018 Talking Drum Publications