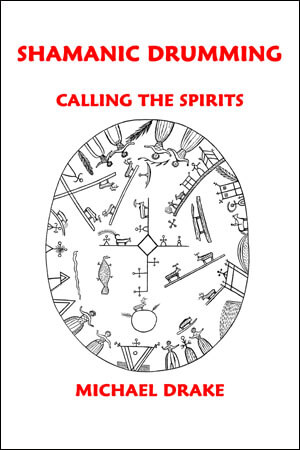 Shamanic Drumming: Calling the Spirits
by Michael Drake

Shamanism has achieved a dramatic modern resurgence. Recent studies by some of the world's foremost scholars on shamanism reveal that the contemporary world still hungers for transcendent experiences because the shamanic narrative is hard-wired in us all. Study results demonstrate that the cross-cultural manifestations of shamanism and its contemporary appeal are rooted in innate functions of the brain, mind, and consciousness.

The revival of shamanism can, in large part, be attributed to the fact that shamanic drumming offers a relatively easy means of controlled transcendence. Researchers have found that if a drum beat frequency of around three to four beats per second is sustained for at least fifteen minutes, it will induce significant trance states in most people, even on their first attempt. Shamanic drumming continues to offer today what it has offered for thousands of years: namely, a simple and effective technique of ecstasy.
Becoming a Shaman
Many people in today's world are being called by spirit to become shamans. A yearning exists deep within many of us to reconnect to the natural world. It is a call to a life lived in balance with awareness of nature, of spirit, and of self. In his third drum guide, Shamanic Drumming: Calling the Spirits, Michael Drake recounts his journey into shamanic practice and explores what someone should do if they feel the call to become a shaman. Following up on his definitive handbook on shamanic drumming, The Shamanic Drum, the author provides a new series of exercises and lessons that allow for a deeper understanding and utilization of this core shamanic practice. He has written a guide to becoming a shamanic healer that encompasses the power of the drum, of community, and of the accountability inherent in authentic shamanic practice.
This empowering book is a call to build relationships with helping spirits. Spirit helpers are the caretakers in the unseen world who want to support the earth and her inhabitants at this time. The shamanic relationship between humans and helping spirits supports our spirit's quest for self-realization. Helping spirits, if engaged regularly and skillfully, offer flexibility, creativity and perseverance in fulfilling our own unique path. The spirits are here to assist us in doing the principal, unique thing we have come here to do in a way that benefits all living things.
Reviews
5.0 out of 5 Stars. "Are you being called to one of the oldest traditions on the Mother Earth? In your heart you know. Michael Drake shares his journey of being "called" by his higher self. It is a wonderful journey with the drum. I live in a remote area of the USA. Michael's book offers a sacred way of learning Shamanic Drumming and shares his knowledge of Ceremony."
--Amazon Reviews
"If the Universe Calls You? This book is the latest by Michael Drake. Just as I read the first pages I found myself mirrored in the writing...it seems to be speaking about me to me! What amazes me is the friendly, easy way he explains very deep topics...as usual I don't like to describe the book content, but what it transmitted to me. I suggest you read it just for curiosity even though I know by the end you will want to investigate more about the Universe, beat, drum, sound, thought, energy...and moreover your place! Please have a look at Michael's author page on amazon.com and read the complimentary pages."
--Angelo Giammarresi, filmaker and multimedia producer
5.0 out of 5 Stars. "A valuable learning tool. Michael Drake is a blessing for all who wish to understand more about traveling on the drum and the spiritual practice it can lead to."
--Angela J. Rapalyea Amazon Reviews
Read a FREE Kindle Instant Preview of Shamanic Drumming: Calling the Spirits (Kindle format).
Download a FREE 15% Sample of Shamanic Drumming: Calling the Spirits (EPUB format for Adobe Digital Editions, Stanza, iPad, Sony Reader, Blackberry, iPhone, and other eBook Readers).
Buy Now From Amazon-- Shamanic Drumming: Calling the Spirits, Trade Paperback, 2012 First Edition, ISBN: 9780962900235, 150 pp. $12.99.
Download Now From Amazon.com--Ebook, Kindle Edition, $5.99. If you buy a new print edition of this book (or purchased one in the past), you can buy the Kindle edition for only $1.99.
Download Now From iTunes--Ebook, Universal EPUB format for Adobe Digital Editions, Stanza, iPad, Sony Reader, Blackberry, iPhone, and other eBook Readers, $5.99.
Preview our Digital Books and Music
© 2001 - 2018 Talking Drum Publications