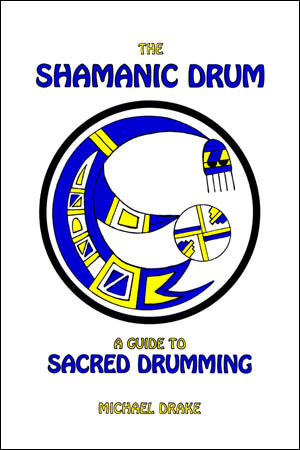 The Shamanic Drum: A Guide to Sacred Drumming
by Michael Drake

Shamanic drumming is an ancient approach that uses rhythm to promote healing and self-expression. Based on his studies and personal shamanic experience, Michael presents the first practical guide to applying this ancient healing art to our modern lives. Through a series of simple exercises and lessons, he teaches the basic shamanic methods of drumming. The focus is on creating sacred space, journeying, power practice, power animals, drum therapy, drum circles and the therapeutic effects of drumming. Whether you are an accomplished percussionist or a total beginner, this user-friendly book will help you harness the power of drumming. Recent studies demonstrate that drumming is a valuable treatment for stress, chronic pain, cancer, stroke, trauma, addictions, mental illness, emotional disorders and a wide range of physical disabilities. The benefits include relaxation, healing, more energy, greater mental clarity, enhanced creativity and deeper self-awareness.

Reviews:
"This book is a valuable, well-researched, and well-written treatment of all aspects of shamanic drumming. The author weaves together both ancient and modern lore, from oral shamanic chants to modern physics and biology, along with personal experiences to illuminate the practice of sacred drumming. Included are step-by-step exercises, analysis of different beats and tempos, and chapters on cosmology, journeying, power practice, and healing the earth. Recommended to anyone seeking to connect deeply with the drum as a tool for personal, interpersonal, or group spiritual and healing work."
--Nowick Gray, Alternative Culture Magazine

"The Shamanic Drum expresses things as they are and it's indeed true that the drum and the proper ceremonies are the way in which we balance and harmonize the energies of the Earth, its creatures, and our relationship with all realms."
-- Dhyani Ywahoo, Cherokee teacher and author of Voices of Our Ancestors.

"A clear and practical work."
-- Julia Cameron, author of The Vein of Gold and The Artist's Way.

"Wonderful, easy to read, in-depth, step-by-step guide to journeying. Michael Drake has written a sensible guide to taking a traditional shamanic journey with measured drum beats to an alternate reality where, with practice, one can meet one's spirit/animal guide. He describes with obvious deep knowledge how to use and care for a drum that will act as both a vehicle to journey and as a healing tool."
--Yana Murphy Amazon Reviews

"In The Shamanic Drum, Michael Drake takes the reader on a journey from humankind's earliest of times to the most modern findings of science to explore the connections and power of drumming and shamanism. At the same time factual and intuitively revealing, Drake allows the reader to become comfortable with concepts that may be foreign and even esoteric in an easy, understandable manner. Drake has provided a textbook on shamanic drumming that should be an enduring classic."
--Jim PathFinder Ewing, author of Reiki Shamanism.

"Apprenticeship would be the ideal way to learn shamanic drumming, however most of us will never be fortunate enough to have this experience. This book is definitely the next best thing."
--Lisa DiPlacido, review editor for Friend's Review.

"Beautiful Imagery. I thoroughly enjoyed the imagery presented in this book. The journeys of the soul were mesmerizing. The guidance for drumming was most useful. The songs presented were short, easy to remember, and inspiring."
--Monarch Amazon Reviews

"I highly recommend this book to anyone interested in the practice of Shamanic drumming. Lots of information, easy to read. Thank you Mr. Drake."
--Cindy (Drumheart) Green

"This is an excellent book that provides a very workable manual, packed with practical knowledge, information and exercises. I was looking for good, authentic shamanic information to incorporate into my own shamanic practices plus ways of weaving this into my drum birthing workshops. I found all I was searching for and more in this book. Definitely recommend to others as a must have book. Thank you!" 5.0 out of 5 Stars.
--Andrew Hope Amazon UK Reviews

"This book is amazing. The author is very knowledgeable and explains things in an easy to read manner. I highly recommend to anyone interested in Shamanism." 5.0 out of 5 Stars.
--January Eagle Amazon UK Reviews

Read a FREE Kindle Instant Preview of The Shamanic Drum (Kindle format).

Download a FREE 20% Sample of The Shamanic Drum (EPUB format for Adobe Digital Editions, Stanza, iPad, Sony Reader, Blackberry, iPhone, and other eBook Readers).

Download Now From Amazon.com--Ebook, Kindle Edition, $5.99. If you buy a new print edition of this book (or purchased one in the past), you can buy the Kindle edition for only $1.99.

Buy Now From Amazon--Trade Paperback, 2009 Revised Edition, ISBN: 978-0962900204, 128 pp. $12.99.

Download Now From iTunes--Ebook, Universal EPUB format for Adobe Digital Editions, Stanza, iPad, Sony Reader, Blackberry, iPhone, and other eBook Readers, 2009 Revised Edition, $5.99.

Buy Now From Lulu.com --Trade Paperback, 2009 Revised Edition, 128 pp. $12.95. Sale Price: $10.36.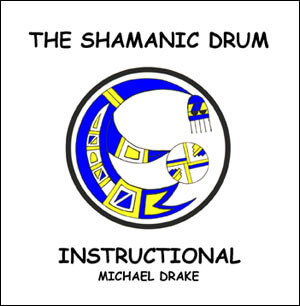 The Shamanic Drum Instructional Recording
by Michael Drake.

On this companion recording to the book, Michael Drake instructs the listener in playing ten ceremonial drum rhythms, including those for invoking the seven directions. A 30-minute shamanic drumming is also performed, which listeners may use for training and journeywork. The recording can be used independently or as an integral companion to the book.

Reviews:
5.0 out of 5 Stars. "I'm new to Shamanic Drumming so this (audio) book was an excellent resource. I would highly recommend it to anyone interested in the subject."
--J. Spencer Amazon Reviews

5.0 out of 5 Stars. "This is a fantastic CD to expand your knowledge around drumming and increase your enjoyment of playing. Michael is very clear in his instructions, his drum sounds wonderful, which increases your motivation and desire to learn. He makes it very easy to learn and play along with his drumming. I highly recommend this CD & I hope he makes more."
--FlairforLife Amazon Reviews

"Five Star Shamanic Drumming CD! I received this CD and it is great. Sounds good with good instruction on shamanic drumming. Thanks."
--Barbara Shinton Amazon Reviews


5.0 out of 5 Stars. "Good instructions. This is well done and very helpful to learn shamanic drum patterns and their meanings. I am grateful to being given this information as I now am sharing it with others."
--Louie Laskowski Amazon Reviews

5.0 out of 5 Stars. "I purchased this specifically for its drumming sounds. They are similar to those which I heard last year at a live drum circle. The effect of the sounds at that event seemed to invoke in me an altered state of consciousness. Since I am now experimenting with altered states, I am hoping drumming sounds on The Shamanic Drum Instructional will help with this effort."
--Amazon Reviews

Sample and Download from CD Baby--The Shamanic Drum Instructional, mp3 download, 60 min., $6.99. Individual tracks: $.99 each. Sample and download individual tracks or the entire album.

Sample and Download The Shamanic Drum Instructional at Amazon--mp3 download, 60 min., $8.99.

Sample and Download The Shamanic Drum Instructional at iTunes--mp3 download, 60 min., $9.99.

Buy CD Now From Amazon--The Shamanic Drum Instructional, Audio CD, 60 minutes, $12.99.


Preview our Digital Books and Music

© 2001 - 2018 Talking Drum Publications